This story was told to me by a man who might just be the greatest I have ever known. We called him Grandpa Jim. When I was back in High school, Jim was my best friend Mike's Grandpa, but he adopted all of us boys who would come by his little old Wrecking yard in Umapine Oregon (a town of less than a hundred). I grew up there in more ways then one, and that shabby looking old man in dirty bib overalls was a superman. He lifted an engine block by himself that Mike and I (both into weightlifting then) wouldn't have even tried. But he also had an IQ of 155, which made him a bonifide genius.
The First Time I walked in to Jim's "office" an old single wide trailer attached to the farm house, I was amazed by the display cases of beautiful sea shells, that Jim had brought home from his time in the Islands of the Western Pacific. Then I saw the old sword, and the Islander war club, Exotic things to a kid from Walla Walla Washington.
Jim did some incredible things in WWII, which the government would still likely deny (so writing his biography will be a chore, but a labor of love). After they booted him out of the Marines, because of his malaria and Lymphatic Filariasis (AKA elephantitis), Grandpa settled back into his old home town and started the wrecking yard.
Grandpa Jim was a Marine Recon Scout before they called them that. He worked alone or with an Islander head hunter as his only partner, scouting Japanese held Islands for invasions. As history buffs know, the Japanese treated the indigenous people as if they were animals, raping and killing at will. So Jim found easy allies in these simple but extraordinary people. I have seen the pictures, old black and white Polaroid's of half naked island girls, and Soo Seffil, his nearly seven foot tall scout, holding two Japanese heads by the hair. I asked Jim if he ever tried to talk the scout out of taking heads, he said he had brought it up once but that it was the man's religion and more than one missionary had ended up dead for trying to convert warriors.
This story occurs on an Island, which had been "visited" by the Japanese where Jim had developed a close relationship with the local chief. Jim brought home a war club that the chief had given him. According to the chief it was largely ceremonial, and Jim was doing him a favor by accepting it as his wife kept whacking him with it anyway.
Jim did his best to stay out of tribal politics, but there was a feud brewing between the Chiefs son and heir, and the tribe's Shaman.
One morning the Chief's son did not wake-up. He was found dead in his hut, having died unnaturally of apparently natural causes in his sleep.
The word spread fast throughout the village that the Shaman had killed the younger man in his dreams.
The tribal lore said that the person who takes a life in such a way must perform a ritual upon the body of the deceased before the next dawn or he too will die, as a sort of Karmic payback.
That Night, Grandpa Jim joined the Warriors as they made funeral preparations. He didn't fully understand yet what was going on so this ritual seemed pretty odd.
The young man was buried, and a large bonfire was prepared over his grave. Then the warriors took long forked spears and wrapped the tips with rags which they then doused with oil. And then they waited.
As the sun set, they lit up the fire and its light lit the whole clearing, but the dense jungle vegetation cut off the light abruptly leaving shadows at the clearings edge, making the jungle seem even darker Then as the night grew long and the men tired it attacked.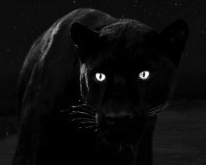 A large Black Panther, was trying to charge the clearing.
The warriors lit their spears and forced the animal back into the trees. But the big jungle cat returned over and over, to Jim it seemed intent on getting to the bonfire, not the behavior of any sane animal.
The attacks went on until just before the break of dawn when the cat disappeared back in to the jungle.
As the sun rose, the warriors left for the village where the women had already discovered, the now lifeless body of the shaman, who had apparently died in his sleep just recently, as Jim checked he had no pulse but his body was still warm.
I was an impressionable young man of 16 when Jim told me that story, and he and his family stood by its veracity to Jim's death in 1986 and when asked, yes Grandma even said it was true a decade after I first heard it.
Jim's moral was a simple one, there are some things you just can't explain and some things that are better not messed with.
The message may seem dark, but no darker than many shows on TV, like the Ghost Whisperer(TM) which actually serve to awaken an interest in the mysteries of this world. This was perhaps one of my first openings into the quest for spiritual knowledge.